Last Updated on Wednesday, 27 January 2010 03:12 Written by Dynamic Wednesday, 27 January 2010 03:07
Due to overwhelming response and limited space, as of 10PM Eastern time today (Tuesday, Jan. 26th), we are CLOSING the reduced/out of town list. If you are already on the out of town list, or sent us an email before 10PM Eastern today, your reduced code and admission WILL be honoured. But no more names will be accepted.
If you have a ticket, you WILL be granted admission to the party. A fresh batch of tickets was dropped off at Shanti Baba a few days ago; when that batch is gone, NO MORE tickets will be sold.
However, if you have an out-of-province ID, but did not make it onto the out of town list in time, we will still ensure that you gain entry to the party.
Otherwise, I recommend coming VERY early.
We do want to ensure that everybody who wants to go can go, but we also want to make sure that you have enough room to dance.
Don't be late!
If you are on the out-of-town/reduced list and you WILL NOT be able to make it, please
let us know
so we can offer your space to somebody else. You can email us at This e-mail address is being protected from spambots. You need JavaScript enabled to view it up until the party starts. Once the event has begun, you can send a message (text only) to the infoline at 647-520-1848.
Just four more days to go! :D :D :D
Last Updated on Wednesday, 27 January 2010 03:09 Written by Flyboy Saturday, 23 January 2010 03:24
Five years ago tonight was our first party ever, Tag! You're it!

I can't believe it's been five years. We were disorganized, confused, lost, but very, very excited. Not much has changed.


So many of you ravers have been with us this entire crazy ride, and we absolutely love you for it. We've had our shares of ups and downs (admittedly far far more ups, and we're truly blessed to have such a loyal (and forgiving
) fanbase.

Next week you'll be joining us for the end of a legacy - the last party at the Big Bop. I hope to see you all there, and maybe we can play a few fun games during the party like we used to back in the day.

Tag! You're It!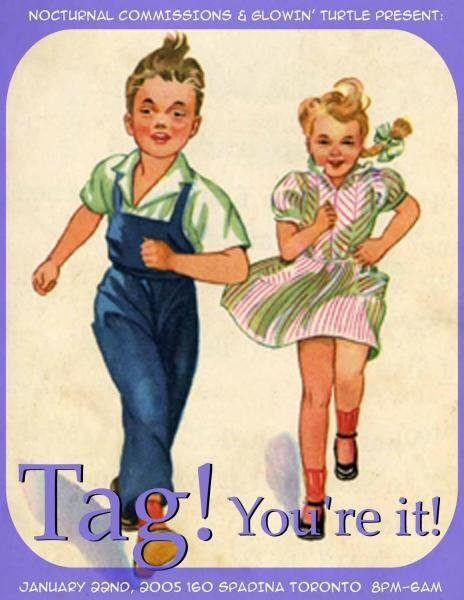 Page 12 of 18